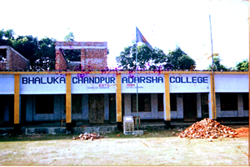 In 1994 Alhazz Captain Rabiul Islam Chowdhury took an initiative to establish a college in the village Bhaluka Chandpur to give the light of education among the neglected deprived and uneducated people of this area. Successful this great attempt he arranged a meeting with the big guns of the village on 01/07/1994. According to the discussion of the meeting. A decision was taken to establish a college in the village Bhaluka Chandpur.
From the very beginning to establish the college, the admission of HSC students being very near the activities of the college started at the two storyed building of Bhaluka Chandpur Model School. To make this institution rapidly as an ideal institution this very wise man appointed some meritorious and active young persons in order of merit as lecturer. At first the renowned learned person Mr. Musharraf Hossain became the principal of the college. The college got recognition by the education board of Jessore in 20 subjects (Science, Commerce and Arts group) on 22/11/1995 and got MPO on February'1998.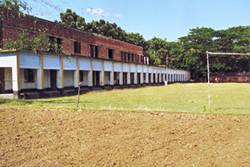 In 1998 according to decision of college governing body the college was transferred the south side of Satkhira-Assasuni road its present campus.
2002-2003 session in Arts and Commerce group the college got recognition by National University. At present there are nearly 500 students in HSC and Degree level in this college. Now the expert qualified and learned principal A.R.M Mobasharul Haque Joti has been contributing greatly to develop the educational activities of the institution.